The Nintendo Switch has been around for around four years now. It's since become the fastest selling console, even beating out the PlayStation 4 and Xbox One. Though lacking in terms of modern hardware, the Nintendo Switch is able to provide a fun and immersive gaming experience that brings families and friends together. Here is a list of 22 of the best party games on Nintendo Switch, and one bad one.
1. The King of Switch Party Games, Super Mario Party
Of course, we need to get the undisputed king of party games out of the way, Super Mario Party. Super Mario Party is an up-to-four player party game that makes full use of the Joy-Cons. With over 80 minigames with unique mechanics to delve into, Super Mario Party will forever provide countless hours of joy and entertainment for the crowd.
[AD] Get Super Mario Party for Nintendo Switch with CHEAP multi-region eShop Wallet with SEAGM! 
(In case you're wondering, no, you don't need two Switches to fully enjoy the game!)
This iteration has new co-op minigames, 2v2 game modes such as Little League Baseball, and a revamped Classic Board Game mode. It has a dash of fun for everyone and is well worth its hefty US $60 price tag. With its versatility, it may even end up being the only game you need for your Nintendo Switch. Very rarely, you can catch it on sale, usually around Mario Day season…
2. The Jackbox Party Franchise on Nintendo Switch
The Jackbox Party games are all good and mischievous fun to have around a crowd. It's a franchise that primarily focuses on trivia and witty quips to keep the audience entertained, with a variety of other minigames thrown into the mix. Up to eight people can partake using their phones and connecting to the Jackbox room hosted on the Nintendo Switch. Unlike the aforementioned Mario Party, Jackbox Party games are more geared towards slightly more mature audiences. It's rated "T for teen", and has elements of crude humor, sexual themes, drug reference, and fantasy violence. That said, the games do have a family friendly filter in case your guests ignored the "Adults Only" invitation.
There are currently seven games in the Jackbox Party series, each with their own unique set of five minigames.
3. "1-2 Switch" is the Pioneer of Nintendo Switch Party Games
1-2 Switch is a very hands-on party game that requires players to be rather physically involved in the action. Throw an impromptu party anywhere with anyone thanks to a new play style in which players look at each other instead of the screen. Bring the action and fun into the real world as you face off in wild-west duels, cow-milking competitions, a copycat dance-off, and more. Each game takes advantage of the Joy-Con controller features of the Nintendo Switch system in different ways.
1-2 Switch will do well to keep a party entertained, but if you're looking for longevity, take a look at the other party games on this list as it carries a hefty price tag of US $50. That said, it does go on sale from time to time, just not too often. Keep your eyes peeled if you're looking to save some bucks.
4. Clubhouse Games: 51 Worldwide Classics
Clubhouse Games allows you to discover and play 51 tabletop games from around the world through board games, card games, sports games, solitaires, and even a piano keyboard. This is an eclectic collection of games of games to play and discover on your Nintendo Switch system.
Each game includes how-to-play instructions and trivia tidbits. Defeat all difficulty levels of CPU opponents to become a master of each game! Play on the go, on the TV, or with others locally or online.
Among the highlights of the collection include Mancala, Chess, Checkers, and even Bowling among others.
5. Wheel of Fortune & Jeopardy!
These two separate games can either be purchase individually for US $20 each or in a bundle (pst, at the time this is published, it's on sale for US $7!). Published by Ubisoft, recreate the dramatic and tense moments from America's greatest game shows from the comfort of your own home. With up to 3 people multiplayer, determine the smartest person in the room and decide who does the dishes in a civil manner.
You can even challenge other people online! Get Nintendo Switch Online membership here with SEAGM to access multiplayer features, cloud storage, virtual retro consoles and more.
6. Diablo 3: Eternal Collection has Eternal Replayability on Nintendo Switch
The previous games in this list are great for entertaining one-off parties and enjoyed in small doses. So, what if you wanted a game that requires a bit more commitment and rewards you with a sense of progression? Diablo 3: Eternal Collection provides you just that.
Diablo 3: Eternal Collection is an action-adventure dungeon crawler that can be played by up to four people locally or online. Stand tall among Sanctuary's meek and wicked to battle walking corpses, horrifying cultists, fallen seraphs, and the Lords of Hell. When the High Heavens and the Burning Hells war, humanity must be its own salvation. This collection contains the Reaper of Souls and Rise of the Necromancer expansions, ensuring you have hundreds of hours of demon-slaying content.
7. Battery Jam, An Intense Party Game with Super Bomberman Vibes
Battery Jam is an up to 4-player local multiplayer game of competitive territorial mayhem! The objective of the game is to use the boombox to smash your opponents, capture their tiles, and dominate the arena. Choose one of four Jammers and compete to have the most tiles at the end of every match. No friends? No problem. You can either take on your friends or play alone in Free-for-All or Team mode across eight levels.
8. Nippon Marathon
Are all of these games listed so far too "normal" for you? Nippon Marathon takes the discipline of marathon running and destroys it with the bizarreness of exaggerated Japanese television tropes. Not only will you run across some of your favorite Japanese themed tracks, but you'll do so with the most extreme and ridiculous obstacles in your way. Rigged competition, flying deadly fruit, an invasive news reporting team, and more await you in this… definitely not "normal" party game.
9. Nidhogg 2
We've already gone across the deep end so now here is another ridiculous (but fun) title: Nidhogg 2. Riding off of the success of its first game, Nidhogg 2 brings more weapons to its intense 1v1 hyper-mechanical combat. Take meticulous control over each of your characters' weapon of choice and swing, poke, shoot or face stomp your way to victory. It features quirky, cartoonish visuals in addition to a banger soundtrack from a variety of artists.
10. Mario and Sonic at the Olympic Games Tokyo 2020
The Mario and Sonic franchise makes another return with this latest installment. Team up with Mario, Sonic, and friends on Nintendo Switch in action-packed sporting events. Take part in intuitive minigames and full fledged sports events such as boxing, surfing, marathon running, and more. Bring your best moves to the track, the gym, the ring, or the water in dozens of different party games everyone will enjoy.
Choose from a roster of two beloved family-friendly franchises and delve into the beautiful arenas of Japan. Also, don't miss out on an epic story mode that sends you to 1964 to compete in classic, retro 2D sports events.
11. Luigi's Mansion 3 – Have a Friend Accompany in Times of Spooky
Luigi's invited to the towering Last Resort hotel, but when Mario and friends go missing, our green-clad hero will have to conquer his fears to save them! Slam, blow away, and vacuum up ghosts with the all-new Poltergust G-00, and join forces with Gooigi to overcome the puzzling contraptions and mischievous boss on each themed floor.
[AD] Get amazing party games for the Nintendo Switch with CHEAP multi-region eShop Wallet with SEAGM! 
Aside from the main campaign, there are also various modes as well as a one-off DLC that will provide extra multiplayer content for up to eight players! Bear in mind that this will require 4 Nintendo Switches as the party games supports 2-player local co-op at a time.
12. Mario Golf: Super Rush
Hit the green with up to four players locally or online and golf with familiar Mushroom Kingdom characters. Modes range from Standard Golf to the energetic Speed Golf and an RPG-like golf adventure in story mode. Intuitive motion or button controls, a shot gauge that adapts to the curve of the course, and other new features make it easy for both new players and seasoned pros to drive and putt with power.
Mario Golf releases June 21st, 2021. In the meantime, stock up on eShop funds with DIRT CHEAP eShop gift cards only available on SEAGM.
13. Mario Kart 8 Deluxe
Get together with four people locally or compete with up to 11 other people online. Mario Kart 8 Deluxe is one of the best Kart racing games of all time, requiring a fair balance of luck and skill. With a plethora of maps with their own secret shortcuts to master, Mario Kart 8 Deluxe provides a quick session for guests and hours of replayability on your own.
One of the Nintendo Switch Party Games You HAVE to Avoid – Party Arcade
Party Arcade is a family friendly party game set in a modern virtual arcade. It has 13 common games where players can collect tickets and unlock different equipment skins. You can play with up to against four members of family and friends at home, or take it online.
Unfortunately, this is a mediocre game that comes at a high price. It is also NOTHING similar to the game with its title on the original Wii. To unlock games, players need to grind for a number of hours to unlock every game. This becomes an issue if there's a specific game players would like to play. It's not ideal for entertaining guests or for a quick session.
The games included are Air Hockey, Billiards, Bocce Ball, Cup Pong, Hoop Shot, Ping Pong, Slots, Stop Light, Disk-O, Corn Hole, Darts, Skill Ball, and Puck Bowling.
14. Super Mario Maker 2
Super Mario Maker 2 is a game that requires a lot of depth and dedication. SMM2 requires players to design their own levels for others to challenge. That said, it's a game that rewards players handsomely for the amount of dedication they put. It's perfect for families that have multiple avid gamers and for those looking to touch on their creativity. Teenagers and growing children can explore their creativity with the sheer volume of level-design tools that Super Mario Maker has to offer. Additionally, players can also download levels online to explore talents from all over the world.
It's a fun, creative game for everyone in the family, and playable for all ages.
15. Minecraft Dungeons
If you're looking for games like Diablo, but want to rope in a wider audience, the Minecraft Dungeons is the perfect game for you. Explore a variety of ruins and areas and master the various different loot you'll find scattered in the world's charming aesthetic.
Fight your way through an all-new action-adventure game, inspired by classic dungeon crawlers and set in the Minecraft universe! Brave the dungeons alone, or team up with friends! Up to four players can battle together through action-packed, treasure-stuffed, wildly varied levels – all in an epic quest to save the villagers and take down the evil Arch-Illager!.
16. Tony Hawk's Pro Skater 1+2 Remaster
It's not out yet, but we are eagerly awaiting the release of Tony Hawk's latest Pro Skater bundle. Tony Hawk's Pro Skater 1+2 brings subtle but significant changes to the THPS formula. Like a fighting game, mashing random buttons can get you quite a decent score if you're lucky. For the best results, however, you'll want to know what you're pressing, as letting your tricks assimilate into the environment is the key to getting great combo multipliers.
What's a party game if you aren't wooing the crowd? Not only is Pro Skater a fun game to play, but it's also fun to watch. In addition to the variety of flips, grabs, and stalls, there are also signature tricks that have dramatic effects to them when pulled off. They aren't easy to execute either (try imagining a Hadouken or DP input from Street Fighter), so everyone who has touched the game will be in awe of your expertise.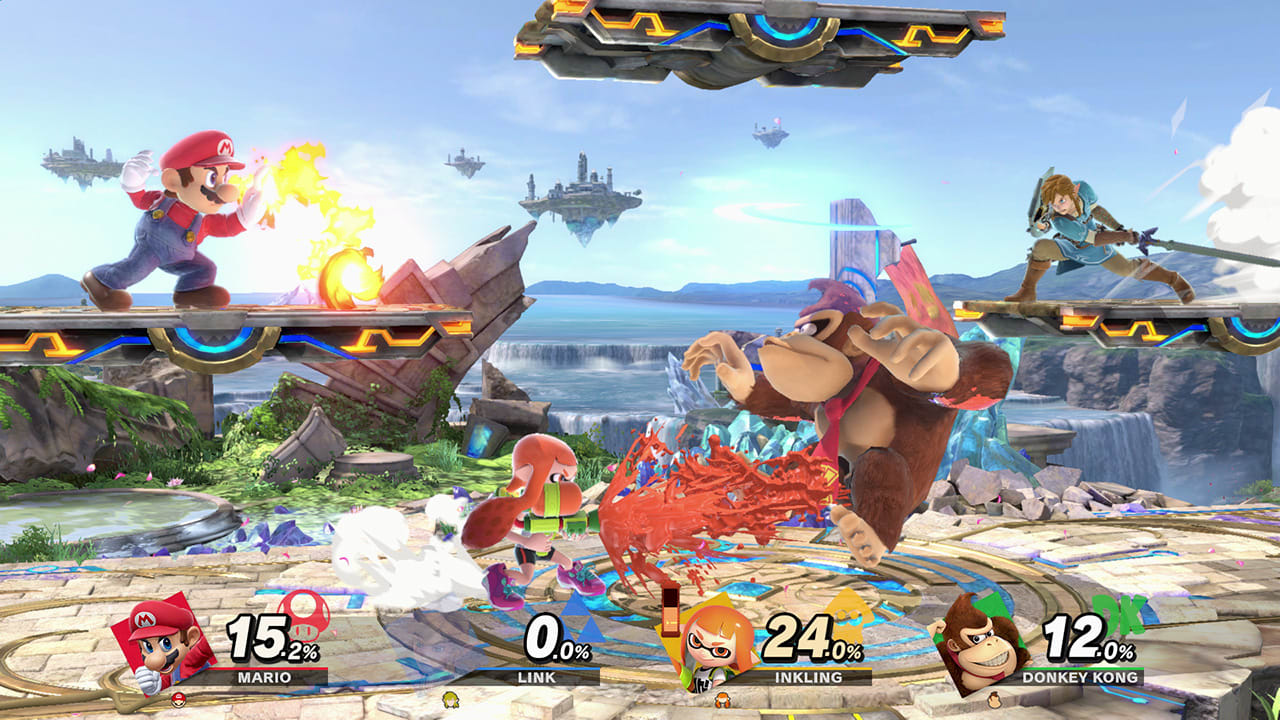 17. Super Smash Bros. Ultimate
Have up to eight people play on one Switch and watch chaos ensue with a plethora of characters, settings, and stages to choose from. This iteration of the 2-8 player party brawler innovates and polishes the formula from 1999.
With the largest roster of iconic characters ever, Super Smash Bros. Ultimate is sure to keep everyone at a party entertained for a good four hours before asking if they can come back tomorrow to settle the score.
Related: Get the Latest Fighters Pass for CHEAP when you purchase the LOWEST RATE eShop Gift Cards from SEAGM.
18. Super Bomberman R
Bomberman is back as Super Bomberman R! Place bombs and collect power-ups to blast your way through classic 'Battle' or 'Story' mode.
Super Bomberman R is one of the perfect Nintendo Switch party games in existence because of its many modes. 'Battle' mode has up to eight players trying to blow each other up in classic Bomberman fashion until the last player standing is declared the winner. Additionally, players can also venture through 'Story' mode, where one to two players work cooperatively to clear a series of 50 stages in order to save the galaxy.
19. Rayman Legends: Definitive Edition is One of the Definitive Nintendo Switch Party Games
The 2011 classic comes to Nintendo Switch with four player local co-op, making it one of the most sought out party games of all time.
Rayman, Globox, and the Teensies are off wandering through an enchanted forest when they discover a mysterious tent filled with a series of captivating paintings. As they look more closely, they notice each painting seems to tell the story of a mythical world. While focusing on a painting that shows a medieval land, they are suddenly sucked into the painting, entering the world, and the adventure begins. The gang must run, jump, and fight their way through each world to save the day and discover the secrets of every legendary painting.
20. Worms W.M.D.
Almost everybody has played the classic Worms. Worms comes to Switch as Worms W.M.D. and lets up to 6 players worm it out on the battlefield. Take the classic formula for on the go or to the big screen,
21. "Overcooked! 2" is Gordon Ramsey's Kitchen Nightmares but cute
This innocent looking cooking game plays as if Gordon Ramsey's Hell's Kitchen was a video game. You're constantly under pressure from an overwhelming amount of orders, plates that need cleaning are stacking up, and for some reason that corner of the kitchen is on fire.
It may seem daunting at first, but after 10 minutes crash-coursing the game, players will quickly grasp the kitchen mechanics and identify the obstacles each map imposes. It's a fun game to play, but fair warning, it might induce some rage if there isn't healthy anger management.
22. Cake Bash
Fighting, Arcade, Party, Multiplayer are all the genres to sum up this next game, Cake Bash. It has adorable aesthetics to cover up its violent antics that take place in the kitchen. Aside from its classic 4-person beat 'em up arcade mode, there are also a variety of minigames for the crowd to enjoy. Avoid being eaten by humans (and pigeons!), spear fish condiments out of a chocolate fondue fountain, roast marshmallows, stack the highest ice cream tower and more in Cake Bash!
That's our list for 22 of some of the greatest party games you can find on the Nintendo Switch! What are your thoughts? Any disagreements? Any titles we missed? Let us know in the comments below! For the best gaming deals, check in regularly to SEAGM where we have seasonal discounts ranging from Steam Wallet to Google Play credits!